EasySolar
Price: $2,790
The EasySolar combines a MPPT Solar Charge Controller, an inverter/charger and AC distribution in one enclosure. The product is easy to install, with a minimum of wiring.
download pdf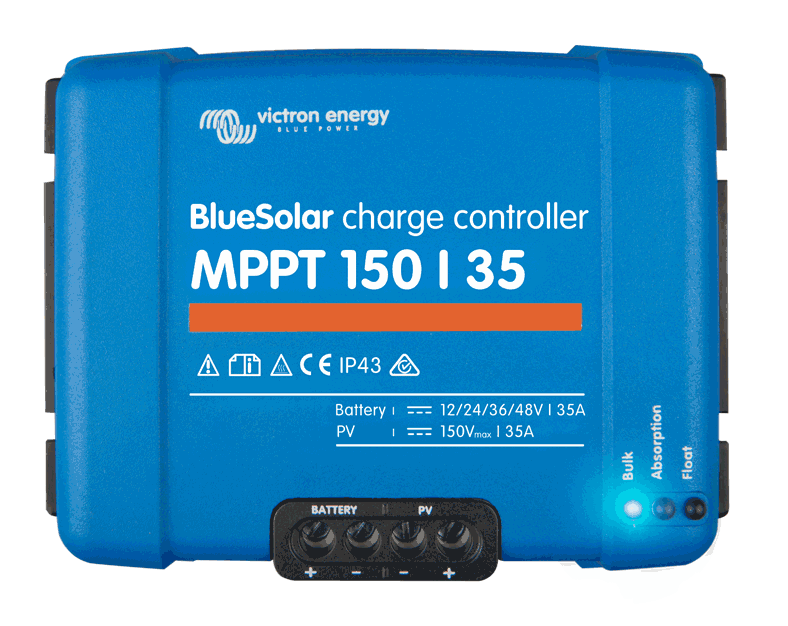 BlueSolar MPPT
Price: $1,090
SmartSolar MPPT Solar Charge Controllers – ultra-fast Maximum Power Point Tracking (MPPT)
Especially in case of a clouded sky, when light intensity is changing continuously, an ultra-fast MPPT controller will improve energy harvest by up to 30% compared to PWM charge controllers and by up to 10% compared to slower MPPT controllers. Bluetooth enabled (Bluetooth dongle needed)
Ultra-fast Maximum Power Point Tracking (MPPT)
Advanced Maximum Power Point Detection in case of partial shading conditions
VE.Direct communication port
Available with screw terminals or MC4 (solar) terminals.
download pdf
Victron Solar Charge Controllers
A charge controller is a type of regulator that prevents batteries from overcharging by monitoring the current coming from the solar panels. While you don't always need a charge controller, larger watt panels will need them if they wish to keep their system running well.
We are happy to offer a range of Victron Energy solar charge controllers, with a variety to suit various voltages and watt sizes. Victron Energy have been the preferred choice for many looking for independent energy sources. The controllers allow for peace of mind and low maintenance on your solar power system.
Charge controllers and solar power energy
Our current range helps store and supply solar energy, particularly for regions that are in short supply of sun, whether a cloudy day or during the winter. When implementing these, you'll quickly see a change in energy harvest. We have easy install systems that you can implement yourself, but our expert team are always available to assist you if need be.
Our team are dedicated to designing and installing systems that save you time, money and contribute to sustainable and ecofriendly energy. With electricity prices going up, there's never been a better time to switch to solar power and Blue Power Storage can help you ensure you have the right equipment, knowledge and accessories. If you're eager to start the switch, choose us to give you the guidance.
Take advantage of your system
If you wish to find out more about installing a solar system or charge controller, get in touch with Blue Power Storage. Whether you're looking for a replacement battery or a completely new hybrid solar power system, we've got you covered, having installed plenty of solar panels in the past. For all queries or interest, call us on 0447 848 398.
Get in touch with us now to launch your ideas